Important Information for Parents
PLEASE NOTE THAT WE ARE A 'NUT FREE' SCHOOL. Please do not send into school any nuts including peanuts, peanut butter or foods containing nuts or peanuts. Thank you for your support.
Snack Money - December = £3.60(Cheques payable to E.A Southern Region, to be paid on the first Monday of each month)
DINNER MENU - Our dinner menu can be found under - 'Parents section'. All dinners must be paid on the Monday for the week or month ahead. The correct cash or a cheque is preferable(payable to E.A. Southern Region) School dinners are now £2.60 per day/£13 a week.
Early bird available daily from 8:15am, 50p per day.
Latest Gallery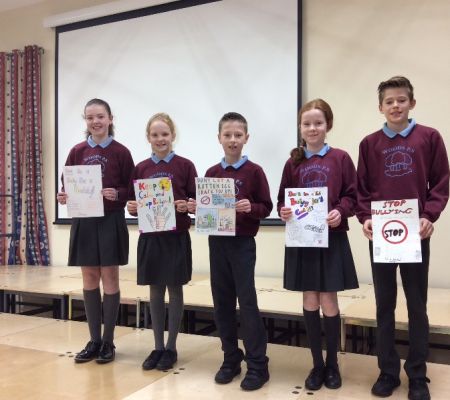 Upcoming Events...
Wednesday, 12th December 2018
School closing early (1.30pm No buses)
Christmas Concert 2018 (6.45pm)
Thursday, 13th December 2018
School closing early (1.30pm No Buses)
Christmas Concert 2018 (6.45pm)
Friday, 14th December 2018
Christmas Assembly with Colin Tinsley (11am)
School Opening doors at 9.45am for school start at 10am. (No buses running this morning)
Mid Ulster Hockey Blitz (Meadow bank Arena @10am-1pm)
Violin lessons today- remember your instruments! (9-11am)
Tuesday, 18th December 2018
P1-7 Christmas Pantomime Trip (Wear school uniform as normal. Bring a coat, plastic water bottle and packed lunch. No fizzy drinks.)
Wednesday, 19th December 2018
Christmas Party Day- FREE NON UNIFORM DAY
Thursday, 20th December 2018
School closing today - Enjoy the Christmas Holidays! (P1-3 & older siblings 11.30am. P4-7 11.45am. No School Bus going home today.)
Friday, 21st December 2018
School closed
Woods Primary School,
38 Oaklea Rd, Magherafelt
BT45 6HX
Telephone: 028 7941 8415